Yesterday was my birthday and it was a really stressful day. But ok and at the end it was nice, too.
I got many presents and I'm so happy about every single one of them!
There are two, that I'm really in love with:
On the one hand there is a game named Shadow Hearts: Covenant. When I was younger I borrowed it in a near Videothek, but after two years, the game wasn't available anymore. Now, after many more years, I got it! New and ready for me to play. Mrhrhhrhr.

So there is still another thing I'm really happy about. I got a box full with Copic Ciao Markers! Hell yeah! XD
Ah sure I tried them out, here you can see: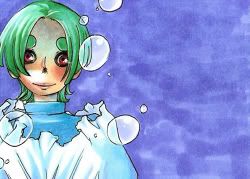 For the first time, I think it's ok. But the lines.. ew! What is with her left eye? D:'''

Hope you have a nice weekend,
Bär

(And from Yaku I got.. a crow and a pyramid head.. *_*)