Picture from tumblr.com
Hey guys! Today I want to talk a bit about my currently favourite Dorama! This time it's
Skip Beat-Extravagant challenge
! It is airing since end of December and it's really good.
The Dorama is based on the Manga, and there is an Anime as well. I only read a few chapters of the Mangas, but it wasn't that bad.
Okey a bit about the
story
, for those who don't know the Manga or the Anime:
It's about Kyoko, a girl that is hard working to support her friend Sho, who is debuting as a singer.
After she recognizes that he's only using her, she tries to become famous herself to take revenge on Sho and thus joins the talent agency LME.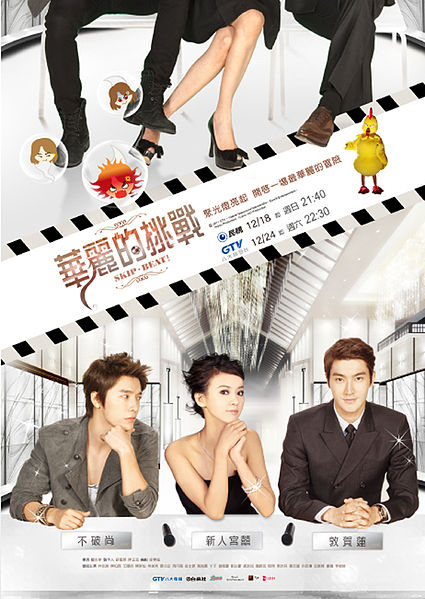 Picture from karaoke-lyrics.net
So much for that, you can imagine that her idea to become famous isn't so easy to realize. But it is really funny to watch her failing, ha ha.
The drama is a taiwanese one. I didn't watch taiwanese dramas before, so I didn't know what to expect, but when I saw the first episode I was just like "WOAH! WANT MORE.", and now I'm waiting every week for the next episode like a maniac.
One reason is the very good cast. Kyoko(called Gong-Xi in the drama) is played by Ivy Chen, who is really pretty and funny. I think she is perfect for that role.
Sho and his rival Ren are played by two members of Super Junior(Donghare and Siwon) and Super Junior M also did the Opening and Ending song, which are really good as well, what is also the second reason I enjoy to watch this drama. The music is excellent.
After a long time I found a drama as good as You're Beautiful and Ouran Highschool Hostclub. I would give this Dorama 5/5 points, if I could. Ha.
I hope you enjoyed my fangirling, but I couldn't resist.
If you want to watch, you can do it on Mysoju, Dramacrazy or Gooddrama. Episodes are airing on every sunday and are mostly subbed on tuesday or wednesday(with a bit luck..).
Enough of this.
Have a nice week,
Bär